You should visit your Doctor from time to time, even if you are healthy. The purpose of these visits is to:
Screen for medical issues
Assess your risk for future medical problems
Encourage a healthy lifestyle
Update vaccinations
Help you get to know your provider in case of an illness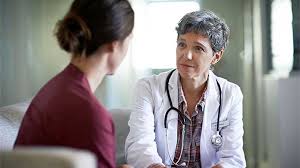 Below are screening guidelines for women ages 40 to 64:
PHYSICAL EXAM:
Your height, weight, and body mass index (BMI) should be checked at each exam.
BLOOD PRESSURE SCREENING:
Have your blood pressure checked at least once every 2 years.
BREAST CANCER SCREENING:
Women may do a monthly breast self-exam. However, Women ages 40 to 49 may have a mammogram every 1 to 2 years. Women with a mother or sister who had breast cancer at a younger age should consider yearly mammograms. They should begin earlier than the age at which their youngest family member was diagnosed.
CERVICAL CANCER SCREENING:
Cervical cancer screening should start at age 21. After the first test: Women ages 30 through 65 should be screened with either a Pap test every 3 years or the HPV test every 5 years. Women ages 65 through 70 can stop having Pap tests as long as they have had 3 normal tests within the past 10 years.

If you have had your uterus and cervix removed (total hysterectomy), and you have not been diagnosed with cervical cancer, you do not need to have Pap smears.
CHOLESTEROL SCREENING:
Recommended starting age for cholesterol screening is age 45 for women with no known risk factors for coronary heart disease. Once cholesterol screening has started, your cholesterol should be checked every 5 years.
COLORECTAL CANCER SCREENING:
You should be screened if you have a strong family history of colon cancer or polyps. Screening may also be considered if you have risk factors such as a history of inflammatory bowel disease or polyps.
If you are age 50 to 75, you should be screened for colorectal cancer. There are several screening tests available
A fecal occult blood (stool-based) test done every year
Colonoscopy every 10 years
You may need a colonoscopy more often if you have risk factors for colorectal cancer, such as:
DENTAL EXAM:
Go to the dentist once or twice every year for an exam and cleaning. Your dentist will evaluate if you have a need for more frequent visits.
DIABETES SCREENING:
If you are over age 44, you should be screened every 3 years.

Having a BMI over 25 means that you are overweight. If you are overweight, you should be screened at a younger age. Asian Americans should be screened if their BMI is greater than 23.

If your blood pressure is above 130/80 mm Hg, or you have other risk factors for diabetes, your doctor may test your blood sugar level for diabetes.
EYE EXAM:
Have an eye exam every 2 to 4 years ages 40 to 54 and every 1 to 3 years ages 55 to 64. Your provider may recommend more frequent eye exams if you have vision problems or glaucoma risk. Have an eye exam at least every year if you have diabetes.
IMMUNIZATIONS:
You should get a flu shot every year. You should have a tetanus-diphtheria and acellular pertussis (Tdap) vaccine once as part of your tetanus-diphtheria vaccines if you did not receive it previously as an adolescent. You should have a tetanus-diphtheria booster every 10 years.

You may get a shingles or herpes zoster vaccine at or after age 50. Your provider may recommend other immunizations if you are at high risk for certain conditions.
OSTEOPOROSIS SCREENING:
All women over age 50 with fractures should have a bone density test (DEXA scan). If you are under age 65 and have risk factors for osteoporosis, you should be screened.